The Management and employees have recently identified a new Vision and set of Values through which we will be aspiring to improve all that we do to the benefit of our Customers, Business Partners, Employees and Shareholders.
Our Vision: Making Your Life Better Through our Products and Services
"Making Your Life Better Through our Products and Services" provides the direction.
We seek to align all that we do to enrich and improve the lives of all our stakeholders.
Our Values: BEST
We encourage the four values of Be Accountable, Excellence, Service and Teamwork summarized by Enhance BEST and have a set of statements for each of the Values.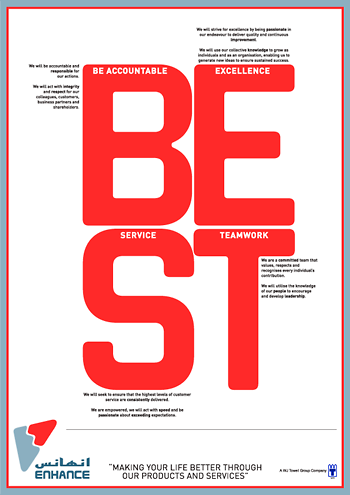 Download:Enhance values poster (456 Kb .pdf) 
BE ACCOUNTABLE
We will be accountable and responsible for our actions.
We will act with integrity having respect for our colleagues, customers, business partners and shareholders.
---
EXCELLENCE
We will strive for excellence by being passionate in our endeavor to deliver quality and continuous improvement.
We will use our collective knowledge to grow as individuals and as an organisation, enabling us to generate new ideas to ensure sustained success.
---
SERVICE
We will seek to ensure that the highest levels of customer service are consistently delivered.
We are empowered, will act with speed and be passionate about exceeding expectations.
---
TEAMWORK
We are a committed team that values, respects and recognises every individual's contribution.
We will utilize the knowledge of our people to encourage and develop leadership.
We recognize and reward our employees on a regular basis for demonstrating
outstanding levels of achievement through pursuing these Values.